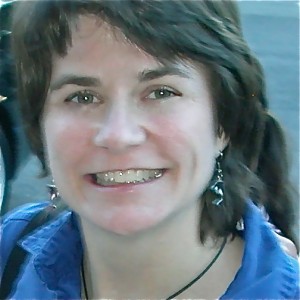 (Yes, the picture is a little blurry, but I'm told that's appropriate since I'm usually in motion!(smile))
Hi, I'm Sandra VanValkenburg (Sandra Van for short). Nice to meet you! If you're still reading, you probably want to know more about me; if not, run away, run away!
Why The Heck Am I The Person To Help You?
Some people seem to be born organized; I'm not one of them!  Certain things seemed simple and obvious for them; but my head got sore from beating it against the same wall before I tried something else.
I've worked professionally for 20 years in administrative positions(and 5 in management) including being a real estate paralegal (which as you might imagine involves keeping track of a whole lot of stuff). I even helped reorganize an office from the filing cabinets up.
I'm also a Renaissance gal, with many different creative interests, so I usually have a lot of dissimilar projects going at once that need to be on track .
But many of the popular programs for time management and organization weren't helping me. What worked for someone else definitely didn't work for me. And when I did find something, often I found myself thinking, this should work better, what if we tweaked that… so I searched for the ones that were a better fit for me and customized them.
My parents, both college professors gave me not only their love of sharing and passing things on but also helping someone work out the answers for themselves.
If you'd like to hear an interview with me, here's one:
Podcast: The Multipotentialite Maker
FYI it's a little long (just under an hour) but you can always listen to it in parts.
So to tie things up, being laid off (twice) it pushed me to move on to situations and fields that were a better fit. The last layoff motivated me to officially launch Eclectic Directions.  I'd like to help you find time for your "want-to's" and spend less time on your "have-to's".
Let's find your best solution together.
Questions? Email me here.  And click to visit the (notebook) shop.
Please pass this on* if you know someone who would like some help to stay focused! It would really help me out if you do, since I don't do any advertising except word of mouth, (in fact, I call my insider information "secret missions"!).
Thanks for reading!
Go back to download your toolkit!
*Note: to do so, in Firefox, click File: Email Link; in Chrome, File: Email Page Location; Internet Explorer, click Page: Send Link by Email